Shawn Johnson's New Cheer Apparel Line
---
Reading, PA (PRWEB) January 29, 2010 — GK-Elite Sportswear announces Shawn Johnson, 2008 Olympic Gold Medalist, as the company's first-ever endorsed athlete promoting her own signature cheer practice wear collection. The new Shawn Johnson Cheer collection, featured in the GK 2010 Cheer catalog, includes seven coordinating practice tops and shorts in cutting edge styles, prints and colors.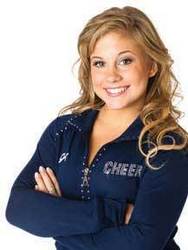 Olympic Champion Shawn Johnson
"I'm excited to introduce my new signature collection for cheer," said the Olympic Champion. "I love cheer and the fact that it incorporates tumbling skills into the routines. I hope everyone finds my collection to be fun and fashionable. Good luck in 2010!"
"We are thrilled to present Shawn Johnson's premier Cheer Workout Collection as an exclusive GK offering," stated Kelly McKeown, who heads up GK's Cheer Division. She added, "With her energetic performances in the world of gymnastics and also as the winner of Dancing with the Stars, Shawn represents all that is great about cheer. Shawn has poured her creative touch into her new signature line by including a mix of fun and athleticism into her designs. 2010 is going to be an incredible year for us!".
The Shawn Johnson Collection is highlighted in GK's new 2010 Cheer catalog. GK is bringing their gymnastics wear engineering expertise to the spirit market. The 2010 catalog includes a greatly expanded range of women's styling, men's cheer apparel, cool new practice wear, dance wear, camp apparel, spirit wear, matching bows and safety & training equipment.
See GK's New Cheerleading Apparel online at:
Available starting February 4th 2010.
GK-Elite Sportswear is the world's leading supplier of gymnastics apparel and is recognized around the world for superior variety, quality, fit and service. Based in Reading, Pennsylvania, Elite Sportswear, L.P., the company behind the GK brand, continues its commitment to American-made quality and continuous innovation in designs for Gymnastics, Cheerleading, and Dance apparel.